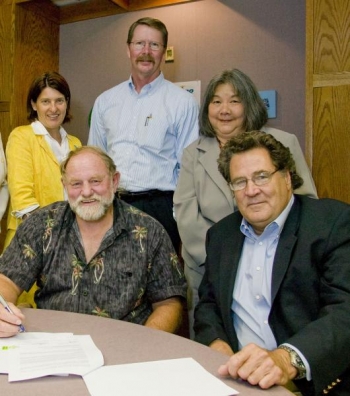 Mike Gleason (second from left), president and CEO of The Arc of Hilo. Also shown, from left: Annemarie Meike, Mark Sueksdorf, Marjorie Gonzalez and Larry Ferderber | Photo Courtesy of LLNL
Lawrence Livermore National Laboratory (LLNL) has teamed up with nonprofit The Arc of Hilo to power a new Agriculture Product Development Center at the organization's site in Hilo, Hawaii. The new center will use two technologies developed by LLNL scientists, which will reduce the plant's electrical bills by 50 percent and provide sustainable and energy efficient solutions for the nonprofit, which provides employment training and job placement for residents and clients living with disabilities.
The project is supported by the Office of Energy Efficiency and Renewable Energy's Technology Commercialization Fund, which provided LLNL and its partners Amber Kinetics, Arnold Magnetic Technologies and EMB Inc. with $225,000 matching funds to deploy LLNL's pilot electromechanical battery/flywheel and electrostatic (ES) generator/motor technologies and $75,000 in matching funds for the novel solar thermal system to be installed and tested at the Agricultural Product Development Center. Both are used to provide electricity for food processing and the warehouse.This new Agricultural Product Development Center will serve as a location for local entrepreneurs to lease space and develop locally-sourced agriculture like papayas, yams and pineapple into higher-value products such as fruit leather, jams and natural sweeteners. The project also aims to expand the market for local produce throughout the state and increase farming efficiency and product development.
The LLNL flywheel battery, developed by Dick Post, is a high-tech version of an ancient concept: using a rotating wheel to store kinetic energy, as in a potter's wheel. In this case, the energy is stored in a rotor made of a high tech fiber material that spins above a magnetic bearing at about 40,000 to 50,000 revolutions per minute. The flywheel is used for the bulk storage of electricity. The ES generator/motor complements the flywheel, and is used to generate electricity.
The Arc of Hilo's CEO Mike Gleason, who also chairs the Hilo Chamber of Commerce, says that working with LLNL to use these technologies is a tremendous fit for both organizations. "This allows us to create job opportunities with much lower energy consumption. These cutting-edge technologies are the first step in bringing sustainable and innovative advances to our community."
To help the partnership get to where it is today, Annemarie Meike of LLNL's Industrial Partnerships Office (IPO) and Marjorie Gonzalez of the National Security Field Experience Initiative (NSFEI) conceptualized a demonstration site that would provide a focus and a real life application for LLNL's technologies and the NSFEI program interns, who are Pacific Region youth participating in temporary work assignments at LLNL.
For more information about The Arc of Hilo partnership with the Lawrence Livermore National Laboratory, see the original press release.