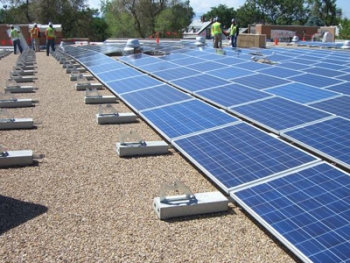 Workers install a solar photovoltaic system on the roof of a Denver school.| Photo courtesy of Main Street Power
This school year, students in the Denver Public School system are getting a first-hand look at solar panel technology.
Main Street Power, a solar development company based in Boulder, Colo., is currently installing solar photovoltaic systems on the rooftops of 12 Denver Public Schools. The project is partially funded through private investments and Recovery Act tax credits.
The company is also providing the schools with a science curriculum that includes solar lesson plans.
"This project will benefit the students at Denver Public Schools and allow the school system to save money on their utility bills," says Jonathan Postal, senior vice president of business development and government relations for Main Street Power. "It has also created real job opportunities for local residents and will have a positive impact on the environment."
A boost to business
According to Postal, the project has allowed Main Street Power to expand its workforce and create awareness for the services it provides.
The company, which is less than two years old, has hired five-full time employees, including junior engineers and project managers, and plans to retain those employees once installation of the solar photovoltaic systems is completed.
"It [the project] helped solidify us as a player in the national solar marketplace," says Postal. "The exposure it created for our business helped us land other projects."
Installation of the solar systems began in late August of this year. Three of the systems are currently undergoing final testing and completion, and Postal estimates installation of all systems will all be close to completion by the end of the year.
Postal estimates the panels will produce a total of 1,640,457 kWh of electricity per year. That is estimated to save the Denver Public School System $14,000 in the panels during the first year of operation and more than $500,000 over a 20-year period.
Funding and other projects
While the majority of the funding for the Denver Public School solar project came from private investment by Main Street Power and Morgan Stanley Solar Solutions, Postal says that the government investment tax credits (ITC) via the Recovery Act have played a key role in stimulating the local solar industry.
"Prior to ITC Cash Grant Program, banks were unwilling to lend capital, even to good projects such as this one," says Postal.
Main Street Power is also installing solar panels on the rooftops of buildings owned by the City and County of Denver, Pueblo County and the Colorado Department of Corrections, and the company recently landed a contract to install solar systems at 35 sites for San Diego public schools and Contra Costa County in Northern California.