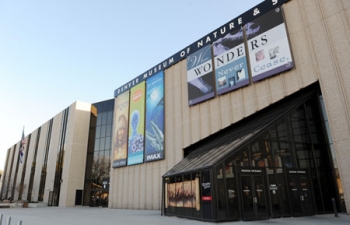 Denver Museum of Nature & Science is planning to install a heat pump system that utilizes the city's municipal water system. | Photo courtesy of Denver Museum of Nature & Science
The heating and air conditioning in the new wing of the Denver Museum if Nature & Science will run on an unusual, subterranean heat source: the recycled wastewater rushing through the pipes below. 
The museum could have proposed a standard ground-source heat pump system, one that taps into geothermal sources by drilling and installing numerous shallow wells over a large area, to provide a heat and cooling resource for the units. But instead, they're planning to install an open-loop system that uses water circulating within the city's municipal water system.
The system at the new Education and Collection Facility — a 100,000 square foot wing that will include an underground collections storage space and a three floor science engagement center with state-of-the-art educational exhibits and labs — will pull from the same non-potable water used by Denver Water to irrigate golf courses and parks."That's the unique piece about it," says Dave Noel, vice president of operations and chief technology officer for the museum. "A traditional ground source heat field might cost two-thirds of the total costs of the whole system. In this case, if we can make this work, not only are the costs much cheaper, but we won't require as much space." 
"Our intention is to grab water out of that system, run it through heat pumps, and re-inject the warmer — or cooler — water back into the system. Essentially we're borrowing heat — or cold — from the water, and then returning it to the system." Dave says.
This project, which received $2.6 million in funds from the Recovery Act, should reduce energy expenses significantly while providing information to support similar implementations in other locations.
"The key to this is the sustainability goal for the entire addition," says Dave, the museum's sustainability guru who also spearheaded the main building's solar array project in 2008. "The [new wing] will meet the LEED platinum specifications and use 50 percent less energy than a typical building of its kind. Our ultimate goal is to create a Zero Energy Building, where we produce more energy that we consume."
These energy efficient practices could save the museum up to $7 million over the next 20 years, Dave says.