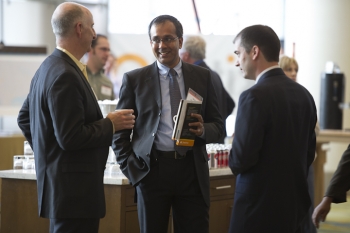 Attendees gather to discuss, collaborate at the SunShot Grand Challenge Summit in Denver, Colorado. | Photo by Dennis Schroeder/NREL.
Change takes more than desire -- it takes collaboration, communication, and a common goal.  This idea was perhaps best exemplified at the SunShot Grand Challenge Summit in Denver. As a former participant in the Solar Decathlon and a current Energy Department intern, I attended the Summit to witness the solar industry's leaders discuss how to best work together to advance America's clean energy economy.
I learned from the event that the success of solar energy depends on a holistic understanding and alignment of where we as a nation and an industry need to go. 
The Summit included several group discussions focusing on priorities and transformational ideas needed to achieve cost-competitive solar by the end of the decade. This included the Energy Trinity Panel – a discussion among leaders in the technology, utility and regulatory fields. The panelists shared best practices on working together to further SunShot Initiative goals.
This collaborative approach brought to mind my participation in the Energy Department's Solar Decathlon 2011. The Solar Decathlon provided engineering and architecture students from all over the world with the opportunity to channel their passion for clean energy into designing and constructing a solar-powered house. Without the cooperation and engagement of local government, onsite-inspectors and regulators, the goal would not have been achievable.
I walked away from the Summit with a better understanding of where we are today and the great opportunities that lie ahead of us. After witnessing the solar community collaborating towards a common goal, I continue my work with the hope that we can leave a lasting impact for future generations and move closer to winning the global clean energy race.