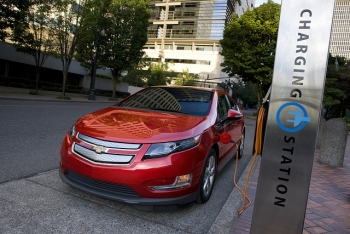 The United States has the largest electric vehicle fleet in the world, which includes cars like the Chevrolet Volt. | Photo courtesy of General Motors
Electric cars are more popular than ever. Earlier this month, drivers shared why they love these sustainable vehicles.
Storified by Energy Department ·
Tue, Sep 29 2015 19:23:18
We kicked off our coverage with a video explaining plug-in hybrid electric vehicles and how they can save you money...
...we shared stories of Energy Department and National Renewable Energy Laboratory employees who love to drive their EVs...
...and you shared yours...
We're committed to sustainability and continue to test new technologies, including alternative fuel vehicles. #ILoveEVs #NDEW2015 #USPS
...even Energy Secretary Ernest Moniz took part!
Electric vehicles are helping us fight #ClimateChange. Watch me test-drive a #3dprinted electric car → http://t.co/iAaWceOica #ILoveEVs
We wrapped up our coverage with a Facebook chat on EVs. You asked questions, we answered.