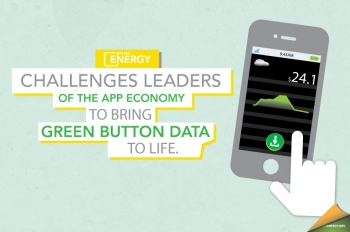 Apps for Energy offers $100,000 in cash prizes to the developers with the best energy-focused apps. Design by Hantz Leger.
The ever-increasing demand for new mobile and web programs and the developers who build them are the driving forces behind a rapidly growing industry – the "app economy."
 
In just a few short years, this new industry has established itself as a formidable job creator. Since the iPhone's introduction in 2007, the app economy is estimated to have created nearly 500,000 jobs in the U.S., according to a study released by TechNet, an advocacy organization for the technology industry.
 
In addition to fostering job growth, the app economy acts as a catalyst for a rising wave of innovation. Well-documented Application Programming Interfaces, open source software, and low-cost tools make it easy for app developers to innovate and test out new ideas.
 
The Energy Department supports the creation and commercialization of new ideas, with programs that make it easier for companies to use the technologies developed at our National Labs, and with grants to companies that are working on innovative technologies. The Energy Department's Apps for Energy competition brings this same commitment to the app economy, offering cash prizes to the developers of the best new energy-focused applications.
 
In the case of Apps for Energy, the challenge at hand is helping consumers get the most out of their electricity usage data. Through the Green Button initiative, millions of Americans can now access their electricity usage data online – straight from their utility or electricity supplier. This data comes in standard, open format, and we're challenging app developers to combine it with other data sets, models, analysis, and sharing tools to create an app that helps utility customers understand their energy usage.
 
Since its launch, 12 utilities have committed to providing more than 27 million Americans with their electricity data via Green Button, with Reliant being the latest utility to roll the program out.
 
Companies are proving the viability of Green Button data. FirstFuel Software – a commercial building energy analytics company – recently announced that it will use Green Button data to perform comprehensive, energy assessments of commercial buildings. Technology companies, such as Tendril and Opower, also have plans to build products compatible with Green Button data.
 
Even as more companies get involved, there is still enormous potential to leverage Green Button data.  Developing applications and services to help consumers understand and control their energy use is a field ripe for American innovation. We're looking forward to seeing how developers will bring Green Button data to life.