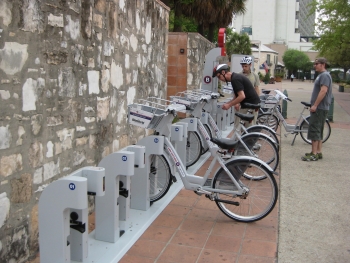 B-Cycle users can access bikes on demand with an annual, weekly, or daily pass. | Courtesy of Julia Diana, City of San Antonio
As the first bike sharing system in Texas, San Antonio's B-Cycle addresses two top concerns in the city: providing opportunities to improve personal health and giving active transportation choices to residents and visitors. Riders are empowered to see how they are making a difference in the community. Through a personal profile page, they can track calories burned, miles ridden, and their carbon offset. It's not just residents who benefit – the city of San Antonio also benefits from cleaner air.
Launched earlier this spring, and funded in part by an Energy Efficiency and Conservation Block Grant from the Energy Department, riders took 9,028 trips by bicycles logging 32,438 "alternative transportation miles," burning 1,424,220 million calories and offsetting 33,825 pounds of carbon in just the first three months.
For the seventh largest city in the country, which is working to strengthen economically competitiveness while combating challenges such as urban sprawl, traffic congestion, and the negative health effects of sedentary lifestyles, the bike share program has city leaders putting the "pedal to the road."
"Citizens are encouraged to bike, bus, walk or wheel to work to help celebrate health practices and environmentally-friendly forms of recreation and transportation," Mayor Julian Castro said at a city-wide Walk and Roll to Work Rally on May 20, 2011. 
The bikes have baskets, built-in locks, and are adjustable for persons from 5'2" to 6'4".  They are equipped with GPS units and theft-resistant parts. The kiosks are run with smart software and use minimal energy. A few stations derive all of their power from the sun. The customer interface is user-friendly and available in English and Spanish. 
The bike share program, spearheaded by the City's Office of Environmental Policy, took about 15 months to plan, design, and implement. A myriad of partners were engaged including elected officials, the private sector, Historic Design and Review Commission, VIA Metropolitan Transit, the San Antonio-Bexar County Metropolitan Planning Organization and the Texas Department of Transportation. A local non-profit has been formed to maintain and operate the system daily. 
140 bikes at 13 locations make up the initial system. Phase II locations are being analyzed.