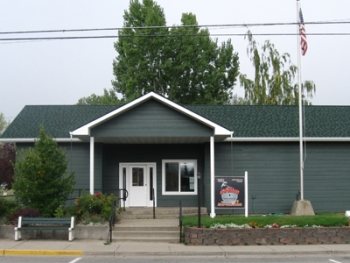 Renovations to Pinehurst's City Hall are saving residents of this bedroom community $1,335 a year | Photo courtesy of Pinehurst
The Pinehurst City Hall had been in need of renovations for quite some time.
Constructed in the 1960s, the building had received few physical upgrades during its lifetime. Its flat roof and lack of insulation made the roof very energy inefficient, forcing this city of 1,600 to pay electric bills that were very high for their limited budget.
That all changed when Pinehurst, Idaho used a grant from the Recovery Act to fund an energy retrofit for the building. Completed in September, the retrofit will cut daily electricity usage in half and save the city $1,335 a year on energy costs. 
"We are a bedroom community and all of our funding comes from property taxes and state funds," says Carla Ross, Pinehurst's city clerk. "We never had any money to make upgrades to city hall until we received funding from the Recovery Act."
Funding helps small community
To fund the retrofit, the Idaho Department of Energy Resources gave Pinehurst $80,000 from a total $5.7 million Energy Efficiency and Conservation Block grant made to Idaho from the U.S. Department of Energy.
The city hired the private contractor Cozmo Construction to complete the project, which included installing energy efficient compact fluorescent light bulbs, replacing the heating, ventilation and air conditioning (HVAC) unit, installing new windows and adding a trussed roof.
Contractors also insulated the building's new roof and installed insulation underneath the building.
Renovations increase efficiency
The new insulation has already paid off.
The new roofing system's R-value, which is a standard measure of resistance to heat-flow, is twice the R-value of the previous materials, meaning heat-loss through the roof essentially has been cut in half.
Renovations took place from August through September, although the normal city hall operations were able to continue throughout the construction period.
According to Ross, who was responsible for researching and applying for the grant money, the project's value will be felt by town residents who no longer have to see tax dollars paying to power an inefficient building.
"Reducing the number of tax dollars that go towards paying the city's electrical bills is one of the best ways we can serve our residents," says Ross.