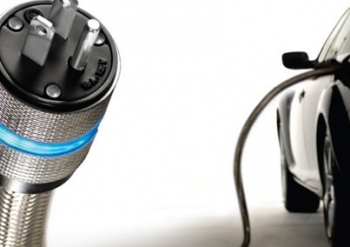 Advanced batteries will enable electricity generated through renewable energy sources to be used in plug-in vehicles. | File photo
A123 Systems, of Watertown, Mass., was awarded a $249 million Recovery Act grant from the U.S. Department of Energy in August that will help implement the company's strategy for the construction of lithium-ion battery manufacturing facilities in the U.S., with the first location being constructed in Livonia, Mich. This is the first step in the company's overarching goal of creating a complete battery manufacturing industry in the U.S., keeping every element of the process — from development to final assembly — in the country, meaning more green jobs for Americans.
The Livonia site is expected to be ready for production in the second half of 2010, and a second site in Romulus should be ready during the first half of 2011. There are also plans to build in a third, southeastern Michigan location.
A123 expects these projects could create more than 3,000 new jobs in the U.S. by 2012, with many of those being direct jobs at its factories in some of the areas that were hit hardest by the economic downturn. The company's lithium-ion batteries offer longer life, higher power density and better stability and safety than first-generation batteries of the same type, meaning A123 Systems' batteries can safely and efficiently be used in electric-drive vehicles — the future of both the automotive and battery markets.

Though its facilities are still under construction, the company has already started hiring laid-off auto workers in Michigan to help meet its customers' needs. As companies such as A123 work to make America the world leader in the domestic advanced battery field, they also contribute to reaching the goal of less dependence on foreign oil as an energy source because advanced lithium-ion batteries can be used in the transportation, electric grid services and portable power markets."Electrification of transport is the best way to dramatically reduce our dependence on foreign oil," Andy Chu, a vice president at A123, says. "Renewable sources of energy like wind, solar and hydro can be used to power vehicles."
A123 was born out of the research labs of the Massachusetts Institute of Technology and was funded initially with a $100,000 grant from the DOE in 2001, when the company began with five employees. It now has more than 1,600 employees worldwide.
This project was highlighted in the Vice President's report on 100 Recovery Act Projects That Are Changing America