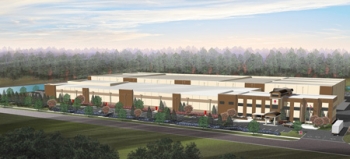 A rendering of Saft's lithium-ion battery factory under construction in Jacksonville, Fla. | Courtesy of Saft
The Saft lithium-ion battery plant under construction in Jacksonville, Fla., is expected to pump hundreds of high-paying jobs into the city's economy while boosting its green credentials.
Construction on the factory is expected to wrap up in 2012 and cost $191 million. Saft was awarded $95.5 million in Recovery Act funds and $20.2 million in financial incentives from Jacksonville and the state.
The new 235,000 square-foot factory will create 279 jobs paying an average of $44,800 a year, 115 percent above the state average. 
The plan "hit a lot of key sweet spots for our community," says Lindsey Ballas, business development chief for the Jacksonville Economic Development Commission. "We have a lot of folks in manufacturing here with the right skill sets."
Production of the first round of advanced lithium-ion batteries is targeted for the middle of next year. The batteries will be used in military and other specialty hybrid-electric vehicles.
"We also plan to offer batteries for energy storage in renewable energy systems such a photovoltaic and wind energy, for broadband backup power, as well as aviation systems," says Saft America program manager Peter Denoncourt.
The battery systems built at the factory will be "based on large format cylindrical cells," Peter says. "We are building in the flexibility to also offer batteries based on prismatic cell designs in the future."
Peter said Jacksonville's pool of well-trained military workers was among many factors that lured the company to the city, which is near Mayport Naval Air Station.
The city's transportation network was another plus.
"Saft will address a global market, and Jacksonville has an excellent infrastructure for this, with good seaport facilities, air and rail transportation and excellent access to the interstate highway system."
The facility is being built at Cecil Commerce Center, where a naval air field once stood, and provides hope to an area devastated by the base's closure.
"The factory will be situated on an industrial site that Jacksonville has been trying to develop for 10 years," Peter says.  "So it is economically very significant to the Jacksonville community."
Lindsey said Jacksonville lost "about 10,000 jobs during the base closure," and the factory will help the former base transition to private ownership. "We have made a lot of progress."
The factory will help Saft contribute to the clean energy economy, Peter says. "For Saft, the factory represents its largest production facility for lithium-ion batteries and will allow the company to address the emerging market for renewable energy from a U.S. manufacturing site."