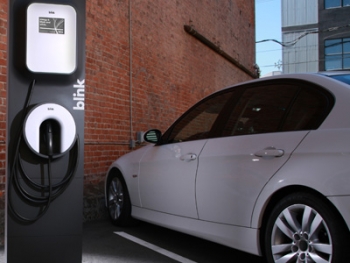 An electric vehicle uses a charging station. | Media photo from ECOtality
Out in the desert, a revolution in automotive technology is happening. Some Arizona drivers are taking part in an innovative new project that will help develop electric vehicle infrastructure and gather crucial research data toward ensuring the vitality of EVs for years to come.
Tucson is going electric as part of ECOtality's EV Project, the largest rollout of infrastructure for electric vehicles in the world. Energy Empowers covered the specifics of the project and its goals in May and the project's expansion during the summer. Ecotality's award, supported by the Transportation Electrification program, is also one of Vice President Biden's 100 Recovery Act Projects That Are Changing America (pdf).
ECOtality recently released its blueprints for EV infrastructure specific to Tucson, which was the final step before installation begins on 180 residential and 230 public charging stations.
ECOtality developed the plans for the city by working with the local utility, Tucson Electric Power, and the Pima Association of Governments, where Tucson Clean Cities is housed. The Clean Cities Coalition is an initiative of the U.S. Department of Energy's Vehicle Technologies Program, which provides technical assistance to local groups such as Tucson's for alternative fuel and fuel-efficient vehicle solutions.
"The EV Project has helped put Tucson on the map as one of the leaders in electric vehicle advancement and technology," says Colleen Crowninshield, Tucson Clean Cities' manager. "By making EV infrastructure available, I anticipate this will become an even more attractive location for people who want to live in a sustainably conscious community."
The plans developed for Tucson will allow the city to place charging stations in locations most needed by EV drivers.
Additionally, data about charging habits can be gathered and evaluated to further the successful expansion of U.S. EV charging infrastructure in the future. With these developments, Tucson — along with the rest of the EV Project cities — is forming the foundation for a future of electrified transportation nationwide.