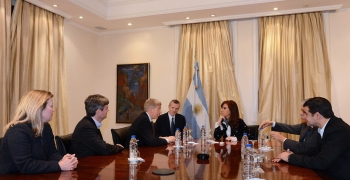 Deputy Energy Secretary Daniel Poneman, third from left, meets with Argentinian President Cristina Fernández de Kirchner in Argentina on May 22, 2014. | Photo courtesy of the U.S. State Department.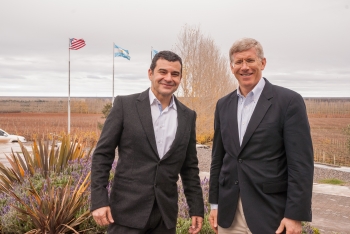 Deputy Energy Secretary Daniel Poneman, right, and YPF CEO Miguel Galuccio meet prior to touring the Vaca Muerta shale formation. | Photo courtesy of YPF.
At the end of May, Deputy Energy Secretary Daniel Poneman visited Argentina, a country where new technologies are making it possible to tap some of the largest shale gas and oil reserves in the world. Indeed, Argentina may have the second and fourth largest shale-based gas (800 trillion cubic feet) and oil (27 billion barrels) resources in the world. The sustainable and efficient development of these world-class resources has the potential to strengthen Argentina's economy and energy security for decades to come. 
As nations of immigrants, settled in vast geographies that have been generously endowed with abundant natural resources, both the United States and Argentina share much in common, and from an energy perspective, we have a great deal to gain from enhancing the two countries' partnership. Both the United States and Argentina are pursuing "all-of-the-above" energy strategies, including development of indigenous hydroelectric, oil and natural gas resources, as well as renewable energy sources and efficiency efforts. In addition, Argentina has built and operated two nuclear power stations, Atucha I and Embalse, for decades. Atucha II produced energy for the first time on June 3 and will be connected to the grid very soon.
Argentina has been an important partner in nuclear nonproliferation. It is party to the Nuclear Non-Proliferation Treaty, the Latin American Nuclear Weapons Free Zone, and the Brazilian-Argentine Agency for Accounting and Control of Nuclear Materials. President Cristina Fernandez de Kirchner participated with President Obama in the first Nuclear Security Summit in Washington, and Argentina has been a valued member of the International Nuclear Framework for Nuclear Energy Cooperation, working with 62 other nations on reliable nuclear fuel supplies and the responsible development of infrastructure in countries seeking the peaceful development of nuclear energy. This year, Argentina will chair the plenary of the Nuclear Suppliers Group, the principal multilateral forum to assure effective export controls in support of nuclear nonproliferation objectives.
Against this backdrop, Deputy Secretary Poneman visited Argentina in May to advance the bilateral energy relationship between the two countries. He reviewed the results of his visit in a meeting with President Cristina Fernández de Kirchner.
Deputy Secretary Poneman began his visit by signing an energy cooperation joint statement during a meeting with Argentina's Minister of Federal Planning, Public Investment and Services Julio De Vido. From there, he proceeded to co-chair a meeting of the Binational Energy Working Group with Argentine Energy Secretary Daniel Cameron. The parties reaffirmed their cooperation in the group's four priority areas: unconventional oil and gas resources, smart grid technologies, civilian nuclear energy, and energy efficiency and renewable energy. The parties agreed to review their progress in these areas within 60 days.
In the course of his visit, Deputy Secretary Poneman also met with the Chief of the Cabinet of Ministers Jorge Capitanich and Minister of Economy Axel Kicillof. President of the Chamber of Deputies Julian Dominguez hosted a session at the Congress with members from both chambers, including representatives of both the government as well as opposition parties. Deputy Secretary Poneman also met with representatives from industry and environmental organizations. These discussions focused on bilateral energy cooperation, as well as on ways that both countries can develop natural resources in a safe, reliable and sustainable way. 
Deputy Secretary Poneman also addressed a conference at the University of Buenos Aires School of Law and Sciences attended by students, faculty and members of the wider community. There he shared U.S. experiences in advancing new technologies, including harnessing safe and reliable nuclear energy. He also addressed the challenges we must all meet regarding climate change. He explained how President Obama's Climate Action Plan calls for vigorous action to adapt to climate change and mitigate its worst effects, while strengthening our international cooperation. We all share the same planet and the same atmosphere. We will only succeed through partnerships around the world to help meet the challenges posed by climate change.
Finally, Deputy Secretary Poneman visited the Patagonian province of Neuquén, home of the promising Vaca Muerta shale formation. The CEO of YPF, Miguel Galuccio, and Chevron Country Manager Kevin Maneffa led the Deputy Secretary on a tour of a drill site, climbing a rig that is using advanced technologies to unlock the enormous quantities of technically recoverable shale gas resources. Afterwards, the Deputy Secretary met with Governor of Neuquén Jorge Sapag to discuss the opportunities in the region provided by these shale-based resources, the importance of openness and transparency in the process, and the value in developing this natural resource in an environmentally responsible way.
Many of the Deputy Secretary's discussions returned to the same themes: that we are living at a unique moment of promise for Argentina's energy future, but that a lot of hard work and well-designed policies will be required in order to take full advantage of the opportunity to generate national prosperity in a sustainable manner. It will be essential to provide industry with predictable and transparent rules of the road necessary to support the vast private investment required to develop these impressive natural resources. Success will also depend on upholding the highest standards of environmental stewardship. With wise policies and strong partnerships, prosperity and energy security can be equally enhanced for years to come.