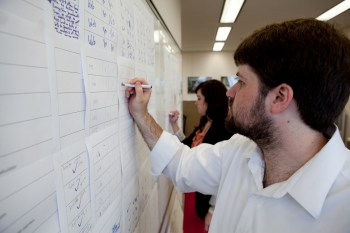 The Energy Department's digital team tested out Apps for Energy submissions in preparation for public voting. | Photo by Hantz Leger.
Back in April, we launched Apps for Energy -- challenging developers to build mobile and web applications that bring Green Button electricity data to life. You answered our call -- sending in innovative, creative and fun apps that help consumers make informed decisions about their energy usage data in ways that save energy and money.
Now that Apps for Energy submissions are in, we want your input! Starting today, you can vote for your favorite Apps for Energy submissions as part of our public voting contest.
To participate, visit our challenge page at appsforenergy.challenge.gov. There, you can browse our submission gallery and view photos, videos and detailed descriptions for more than 50 web and mobile applications.
Your vote will help determine the Grand Prize and Second Place winners for the Apps for Energy Popular Choice Awards. You can vote only once - but for as many submissions as you'd like until the close of public voting on May 31, 2012.
Want to share feedback on your favorite apps? Connect with us on Facebook and Twitter (#appsforenergy) to share your thoughts. We'll be listening.
Good luck developers!