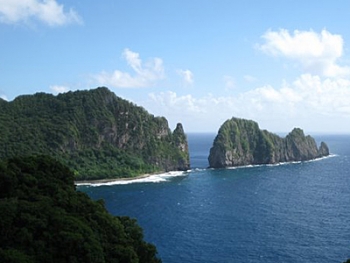 American Samoa is located in the South Pacific Ocean, with temperature around 80 degrees year round. | Photo courtesy of Maleleg
American Samoa, a small island of 66,000 residents in the Pacific Ocean, is a warm 80 degrees almost year round, but during the summer, the humidity can make it feel downright hot. Because of its remote location, appliances and electricity are costly - and until recently, home air conditioning units were fairly rare.
Now thanks to a $100,000 grant through the American Recovery and Reinvestment Act, residents of American Samoa are able for the first time to purchase ENERGY STAR air conditioners – and for 30 percent off - through the Island's first appliance rebate program.
The rebates range from $100 to $250 for qualified ENERGY STAR freezers, refrigerators, clothes washers and air conditioners.
Until this program was launched, ENERGY STAR appliances simply were not available in American Samoa.
"There is a lot more awareness about energy conservation because of this program," says Malelega Tuiolosega, program manager for the American Samoa Territorial Energy Office. "In the past we just talked about it, but there weren't any vendors or products. Now we've got vendors selling these products and people are becoming more aware of why conservation is important."
Since April, Tuiolosega says nearly 100 residents have come in to apply for the rebate. Tuiolosega says the majority of the rebate applicants are first-time buyers or new homeowners, and some are also participants in the island's Weatherization Assistance Program.
"When they come in to apply for a rebate, we don't only tell them about the program, we explain ENERGY STAR and why it exists. It lowers their electricity bills and puts money in their pockets," says Tuiolosega.  "Even though these appliances are energy efficient, we also teach them there's a human factor involved. It's up to them to turn things off when they leave the house to keep the bills down."
Out with the old, in with the ENERGY STAR
When the rebate program began, Tuiolosega noticed a problem. Many old units were simply dumped on the road side or left in overgrown yards-becoming an eyesore. And, although appliances were treated as solid waste, only some residents would properly dispose of appliances in landfills.
About American Samoa
American Samoa's islands are located in Polynesia, close to New Zealand and Hawaii. In 1900, American Samoa became a territory of the United States. The 60,000 plus residents are considered American Nationals, giving them free and unrestricted access into the U.S. and elect one non-voting delegate to the U.S. House of Representatives.
After a lot of research, meetings and calls, Tuiolosega found a local company that could properly dispose of the chemicals found inside appliances.
The American Samoa Territorial Energy Office is now working closely with the American Samoa Power Authority to ensure that used appliances are being recycled appropriately. The recycling program for the territory is still in its infancy stage and there is still discussion on how to remove them from the island.
For now, residents are able to drop off their old appliances at retailers, where they're taken to a compound to have chemicals removed, then the unit is delivered to the scrap metal yard.
This is the first time we've had a service like this here," she says. "We didn't want chemicals in the ground water and soil, and this way, the chemicals are properly disposed of."