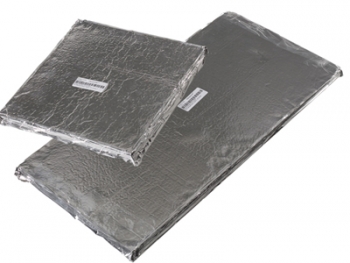 AcuTemp received a $900,000 48C manufacturing tax credit under the American Recovery and Reinvestment Act to increase production of the company's ThermoCor vacuum insulation panels for more efficient ENERGY STAR appliances. | Photo courtesy of AcuTemp |
"[Refrigerator manufactures] are searching for technologies," says Doug Roberts, vice president of business development for ThermoCor, LLC, a wholly-owned subsidiary of AcuTemp, which manufactures vacuum insulation panels needed to maintain precise temperatures for cold-storage products. "What we have been able to do is help [manufacturers] go above and beyond the ENERGY STAR requirements by as much as 30 percent."As major refrigerator manufacturers seek out products to make appliances more energy efficient than current ENERGY STAR-rated models, small U.S. businesses like AcuTemp Thermal Systems in Dayton, Ohio, are ramping up production to meet demand.
AcuTemp received a $900,000 48C manufacturing tax credit under the American Recovery and Reinvestment Act for a facility upgrade that will allow AcuTemp to significantly increase production of its high performance insulating panels. The vacuum insulation panels have high thermal resistance and are thin—attractive qualities for manufacturers looking to boost energy efficiency and save precious room in refrigerators and other appliances.
Supplying products and jobs
The tax credit, Roberts says, is helping the small business grow and continue to create more jobs in Dayton.
The company will purchase more equipment to make the panels, increasing production by six-fold  at its 90,000-square-foot-facility in Dayton, which employs 200 people, 100 of whom were hired in the last 12 months.
"When you are going through an expansion, cash flow and capital investment become a key issue. [The tax credit] has helped with that base investment," Roberts says. "At the end of the day, it allowed us to increase production and create jobs in the area."
The company can produce about 2.5 million panels a year, a number that has doubled over the last few years, along with its workforce, according to Roberts.
The panels are used in other products:  cold-storage carriers for temperature sensitive products, like vaccines, electronics and fine art.
Roberts says AcuTemp will continue to grow as more energy efficient, cold-storage products are developed.
"We're seeing the market continue to expand," he says, "so we are expanding to meet that demand."