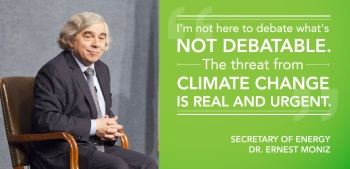 Secretary Moniz has been committed to fighting climate change since Day One. To commemorate the three-month anniversary of his swearing-in at the Energy Department, here are some of the Secretary's greatest climate change moments since May 21, 2013.
Storified by Energy Department ·
Wed, Aug 21 2013 14:51:14
In a speech to Energy Department employees on his first day in office, Secretary Moniz laid out his priorities. President Obama's
plan to fight climate change
was at the top of the list.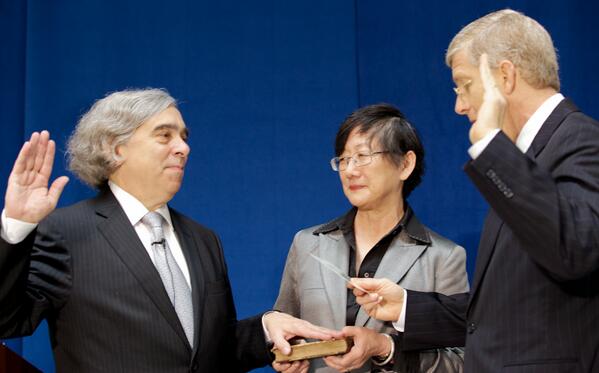 "Let me make it very clear that there is no ambiguity in terms of the scientific basis calling for a prudent response on climate change," Secretary Moniz said, citing the changing climate as one of the reasons for his return to the agency. Watch highlights from his first day in office in the video below.
Energy Secretary Ernest Moniz: Climate Change Is 'Not Debatable' http://huff.to/18c8mu3 via @HuffPostGreen
In a town hall with Energy Department employees, Secretary Moniz discussed the importance of using natural gas as a bridge to a low-carbon future, and the approaching tipping point of renewable energy technologies: "Buying time is not very useful if you don't use the time. ... This is the time to get [renewables] ready for the marketplace on a big scale." Watch his full remarks on renewables and natural gas below.
At the
White House Leadership Summit on Women, Climate and Energy
, Secretary Moniz supported President Obama's commitment to act on climate change:
"I'm not here to debate what's not debatable. The threat from climate change is real and urgent. The science fully demands a prudent response."
Watch his complete remarks to women leaders in the climate movement in the video below.
During hearings on Capitol Hill, the Secretary reiterated his support for President Obama's science-based commitment to fight climate change.
Energy Sec Moniz answer on how does he know human emissions primary cause of global warming "I know how to count" http://www.youtube.com/watch?v=qtn9Am44JHg&feature=player_embedded
In July, Secretary Moniz shared findings from an Energy Department study linking climate change to potential impacts on the electrical grid:
"As the effects of climate change intensify, a new report released by the U.S. Department of Energy examines current and potential future impacts that changing climate trends have on our nation's energy sources and electricity infrastructure."
More efficient use of fossil fuel key to #climate change fight, says Energy Secretary Ernest Moniz. Platts story: http://plts.co/14uevKQ
After a visit to the National Energy Technology Lab, the Secretary shared some thoughts on Facebook about the "serious challenges" that lie ahead: "The United States has faced challenges like this before, and we have always found a way to innovate our way to a cleaner and more prosperous future. For our part, the U.S. Department of Energy -- especially our national labs -- have an important role to play in supporting the groundbreaking science and innovation that is essential to the President's vision."
In August, Secretary Moniz participated in a Twitter chat about climate change with EPA Administrator Gina McCarthy.
.@GinaEPA, @Energy data shows since 2008, solar costs down 75%, deployment up 1000%. Your thoughts? #AskGinaEPA
A3:@ErnestMoniz Great news! Renewables huge factor in helping cut carbon pollution and create jobs. Go @Energy! #AskGinaEPA
Under Secretary Moniz's leadership, the Energy Department is on the march, tackling the threat of climate change and implementing the President's climate action plan.