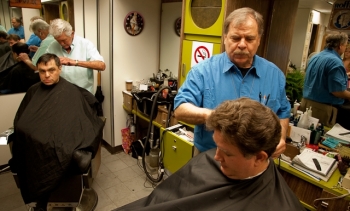 Ron Wilson, left, cuts Joe Conklin's hair while David Besenyei prepares to trim the hair of another customer. | Energy Department Image | Photo by Hantz Leger, Contractor
Since long before the Department of Energy even existed, David Besenyei has been cutting and styling the hair of Washington officials in the Department's James H. Forrestal Building in downtown D.C. 
The D.C.-area native has cut and styled the hair of countless Energy Department employees in his nearly 40 years spent cutting hair in the building, which served as office space for the Department of Defense before it became the Department of Energy's headquarters. While most of his clients are federal employees that work in the facility, several still come to him for their monthly trim long after they've left the Department. David has also cut and styled the heads of former Energy Secretaries Admiral James Watkins and Spencer Abraham.
Since 1972, David's barbershop -- the Razor's Edge -- has been located in GD-020 on the Forrestal ground floor, but is open to members of the public. Earlier this year, David gained another talented pair of hands in the shop when Ron Wilson joined the Razor's Edge team. Another longtime government agency barber, Ron joined forces with David after 25 years at the Federal Aviation Administration shop located just down the street from the Forrestal Building.
The two men work side by side, cutting the hair of various clients. During my visit to the barbershop I met Mark Eckell, a longtime client of David's who has been coming to see him for over 30 years -- even after he left the Department in 1983. David says there are several retirees who still come in for their cuts long after they've left the Department.
"I'm a creature of habit, what can I say?" Mark laughed when asked about his loyalty to the old-time barbershop. David added, "Most people don't like to change. It's great when we get folks new to the building who stop in for a cut."
As David worked on Mark's hair, Ron settled in with Joe Conklin, a (now) regular who has been visiting the Razor's Edge for about six months. The EIA employee says he intends to keep coming back to the shop, and seemed like a natural sitting in Ron's chair getting his regular trim and catching up with the two talented barbers.
Entering the modest shop, which is located in the north section of the Forrestal complex near corridor D, is like a step back in time. Aside from the friendly banter between David and Ron (and the cheerful regulars who chat along), the Razor's Edge has a radio and copies of the Washington Post to keep the gentlemen busy between clients, who come in between the hours of 9am and 1pm Monday through Thursday. "No TVs, no computer down here," David laughed.
The phone rang several times during my visit to the shop. David takes every call, and the Arlington resident makes note of his clients' availability and works their schedules into his appointment book. "When folks call me, I can get them right in. I hate to have people wait -- everybody has a schedule to keep."
One client I spoke to called David "the hardest working barber in the city -- and the most affordable." In fact, David hasn't had a day of sick leave or taken a vacation in more than 20 years.
David describes himself as a traditional barber stylist who specializes in a men's haircut known as the "Roffler Skulptur Cut," fliers for which still dot the walls in the shop. Ron pointed out to me that he cut women's hair for decades at the FAA shop, and that ladies (myself included) are more than welcome to stop in for a trim at the barbershop, though admittedly most of their business now is from men. Cuts start at $18, and folks are welcome to come by from outside the Department as well.
Both David and Ron grew up in the Mid-Atlantic region -- Ron a native of Baltimore and David is from D.C., but both live in Northern Virginia now. The two men are both veterans, "And proud of it," Ron adds. While Ron served in the Navy from 1962 until 1966, David served in the Army from 1960 to 1963. Aside from the Razor's Edge, both men also have other jobs on the side, and David is a big golf fan and will happily talk sports with anyone interested, including former Secretary of Energy Spencer Abraham -- a big Detroit Tigers fan, David tells me.
When asked if either gentleman sees retirement in their future, David chuckled.
"I'm not going anywhere," he said. "I have no plans to retire anytime soon."
To make an appointment with David or Ron at the Razor's Edge, call 202-586-1615. The shop is open from 9am until 1pm Monday through Thursday and located in room GD-020 in the Forrestal Building, 1000 Independence Avenue SW, Washington, D.C. It is open to the general public by appointment.