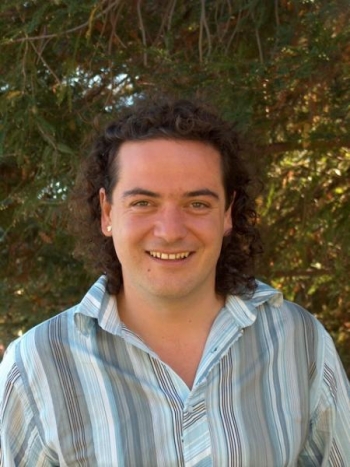 Cosmologist Tom Abel | Photo Courtesy of SLAC
After talking to Dr. Tom Abel, going back in time takes on a whole new meaning. Abel, a cosmologist working at SLAC National Accelerator Laboratory, uses supercomputer calculations to help learn about what happened in the first billion years of the history of the Universe. In the latest 10 Questions, get the download on his work modeling the first supernova, his favorite gadget in the lab and why supercomputers are critical assets to this intergalactic exploration.
 
Question: Why did you pursue a career in cosmology?
 
Tom Abel: I had a bit of a knack for physics in high school and chose to give it a try in college. While mathematics there seemed even more fun and challenging (and I almost switched), I am now glad to have stayed with physics. I enjoy being able to think about things that nobody knows everything about yet. Better yet – I get paid to do that!
 
When it was time to think about a research project, I was deciding between either the very smallest or the very biggest things in the Universe – namely between particle physics or cosmology. During a year abroad (I'm from Germany) at the National Center for Supercomputing Applications at the University of Illinois at Urbana-Champaign, Michael Norman and Martin Rees posed a question: What were the very first structures in the Universe? Well, that was it for me. Essentially everything I have worked on since then is related to, or has grown out of, this interest in studying the very first objects.
Q: What led you to your position at SLAC National Accelerator Laboratory (SLAC) and the Kavli Institute for Particle Astrophysics and Cosmology (KIPAC)?
 
TA: I had just started a faculty job at Penn State University, had secured grants and had put together a research group with a handful of students and a postdoc, had built a computing cluster and a visualization lab and was quite happy there.
 
Our research had gotten some publicity with cover stories in Discover magazine and National Geographic in late 2002 and early 2003. KIPAC was just getting started and its director, Roger Blandford, was so nice to invite me to submit an application, which I actually did not do at first. Then, four months later he was kind enough to ask again and I sent my CV. Looks like it was good enough and I started at KIPAC six months later.
 
Q: You've said that what interests you the most is finding out where all the elements in the human body came from. What have you found?
 
TA: Yes. It is perhaps a somewhat trivial connection, but I am fascinated that a large fraction of the atoms in my body were made within the first minutes of the Big Bang. Most of the atoms were all made before the sun and the earth formed, so the average age of the material that makes up our bodies is more than 10 billion years old! This clearly is some excellent recycling.
 
Q: Can you tell us about your work modeling the first supernova?
 
TA: From what we understand, not much happened in the Universe until the first stars formed. Once they got going, though, things became interesting fairly quickly. Some of the stars died in spectacular supernovae, enriching the Universe with elements such as carbon and oxygen for the first time. They pushed lots of gas around, created the first significant magnetic fields, made some black holes, irradiated inter-galactic space with their ultraviolet radiation and more. We are trying to pull all of these things together and understand the story of the Universe as much as possible using the first principles of physics. Much of this we do by designing robust and accurate numerical algorithms, running very large calculations and then making sense of the vast amounts of data we create.
 
Q: What other projects are you working on right now? What do you hope they will lead to?
 
TA: Some of my latest obsessions have to do with the formation, amplification and distribution of magnetic fields over cosmic history. Our computers are just getting big enough and our algorithms are just getting good enough to be able to tackle this. These magnetic fields affect the formation of stars and galaxies in the Universe and are of interest also toward understanding how cosmic rays get from their sources to our detectors.
 
Q: How do supercomputers impact your work?
 
TA: Oh, they enable it. In astrophysics, we cannot do laboratory experiments, such as, say, taking a star and throwing it in a black hole. Not only would it be dangerous and expensive, it would take a lot of space. So the closest we can come is through the use our computer models and try these calculations safely, albeit less realistically. With the many scales and physics involved, we need the largest computers we can get our hands on to capture formations as realistically as possible. Consequently, we strive to stay proficient in programming and debugging our codes on massive parallel architectures.
 
Q: What projects are you watching (beside your own)?
 
TA: There are quite a few. Our work is very interdisciplinary, so I follow research in atomic and molecular physics relevant to the chemistry of inter-stellar gas, applied math for our numerical algorithms, scientific visualization and analysis to make sense of our data, high performance computing hardware and software to scale our calculations to ever-more complex supercomputers, transport methods and their applications in a range of fields, particle physics for constraints on the dark matter we model...just to name a few.
 
Unrelated to my research, the technology and economics of solar panels/photovoltaics is something that I find interesting to follow. I am originally from Germany, a country which has invested heavily in solar energy over the past few years, and it's interesting to see how this is developing further there as well as here in California.
Q: Do you have any advice for students?
 
TA: Find something that inherently sparks your curiosity and where you see a chance to improve upon something. In the end, I have kept looking for things that I enjoy and that keep me happy. So I suppose my advice is somewhat selfish – try to make the things you enjoy into a career.
 
Q: What is your favorite gadget in the lab?
 
TA: Ah, I love our visualization lab (vislab). It is an immersive environment. You wear glasses and can explore three-dimensional data, Avatar-style. With all the simulations we do, it is wonderful to be able to have the sensation of being "inside" the cosmological data.
 
Q: What do you enjoy doing in your free time?
 
TA: I have a five-year-old son, Patrick, and I mostly wish I had even more free time to spend with him and my wife, Cathy. I also like to play guitar and make music with friends and I enjoy making pizza from scratch.