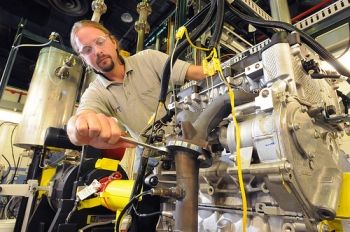 Argonne mechanical engineer Thomas Wallner adjusts Argonne's "omnivorous engine," an automobile engine that Wallner and his colleagues have tailored to efficiently run on blends of gasoline, ethanol and butanol. | Courtesy of: Argonne National Laboratory.
Meet Thomas Wallner – automotive engineer extraordinaire, who hails from Argonne National Laboratory's Center for Transportation Research. He took some time to answer our 10 Qs and share his insight on advanced engine technologies from dual-fuel to biofuels. Check out more below and also learn about "LEGO for engineers."  
 
Question: At Argonne, you lead the lab's hydrogen engine research program. What brought you to this position?
 
Thomas Wallner: My interest with hydrogen combustion engines started about a decade ago when I entered a Ph.D. program at Graz University of Technology in Austria. At the time the university had just established a collaborative project with BMW Research and Development to better understand hydrogen engines. As this research continued, we focused on hydrogen direct injection engines together with BMW.
 
Also in 2003, European Research Commissioner Phillippe Busquin and Secretary of Energy Spencer Abraham signed an agreement to strengthen research links by bringing together E.U. and U.S. researchers from the public and private sectors. As a result of this, a delegation from Ford, Argonne and Sandia visited Graz University to discuss potential areas of collaboration. That's how I learned about the hydrogen engine program in the U.S. and in March 2005 I joined Argonne as a postdoctoral appointee to work on hydrogen engines. The project continued to grow and eventually I was hired as permanent staff and assumed responsibility for the project.
Q: Why did you pursue a career in automotive engineering?
 
TW: Good question! Whenever talking to friends with kids I tell them to make sure that their kids learn something useful so they make a lot of money, such as lawyers or bankers. Of course, I am just kidding since I really like what I am doing.
 
My fascination with engineering started pretty early – even as a kid I was really good at disassembling stuff – whether it was my grandfather's old radio or an old TV set – although my mission to actually repair things did not really happen too often. But, I have always been curious to find out how stuff works. Fast forward a few years and at age 18 I had to make a pretty big decision in Austria – college education is typically 5 years and quite specialized and someone asked me what I liked doing. The answer was pretty simple – I really like working on my old motorcycle and that's how I made the decision to study mechanical engineering.
 
Q: Can you tell us a little about the omnivorous engine? How was it developed? What are the next steps?
 
TW: The omnivorous engine concepts actually started out as a Lab Directed Research and Development (LDRD) project initiated by colleagues here in the engine group. The idea behind the concept is to figure out how to run an engine most efficiently on a variety of fuels – in our case, gasoline and ethanol as well as next-generation alternative fuels such as biobutanol.
 
The goal is to enable the engine to calibrate itself so that it burns available fuel at maximum efficiency through a suite of sensors in the combustion chamber and exhaust that tell the engine what kinds of fuels are used. One of the promising signals actually comes from the spark plug which is used as a sensor for so-called ion-sensing signals. Those signals can be used to determine whether the engine runs at optimal conditions, indicate when engine knock occurs and even give some indication of which type of fuel is being used.
 
Q: Do you have any advice for students interested in engineering?
 
TW: It's hard for me to give advice to students here in the U.S. since I went through college in Europe. The insight into the U.S. college system I have gotten so far is limited to interacting with students as a mentor in Argonne's summer intern program and as an adjunct professor at Michigan Technological University. The only advice I have for students, in particular during their early stage of education, is 'hang in there – it only gets better.' That's based on my own experience where the curriculum during the first few years is dominated by math, physics and chemistry. Only later in college did I get into the more applied, practical (and for me much more enjoyable) classes such as internal combustion engine basics and the hands-on engine labs.
 
Q: What is your favorite gadget in the lab?
 
TW: Since I am more of a mechanical guy, I don't really have a favorite gadget in the lab. But, if I really had to pick one it would probably be the new indicating system we recently purchased. Those systems are used to record the pressure inside the combustion chambers of an engine (yes, while it is running). The system measures the pressure close to 1,000 times per revolution of the engine and since even regular automotive engines spin up to 6,000 RPM, that is a lot of data to handle. And if that was not enough, the new systems also run calculations and shows some of the results that are relevant to engine performance in real time. As an engine guy, I think that is really cool!
 
Q: What does Argonne's Modular Automotive Technology Testbed (MATT) do?
 
TW: That's a project of my friend and colleague Dr. Henning Lohse-Busch. To use his words, "MATT is something like LEGO for engineers." The platform is a flexible and easy-to-modify assembly of engine and hybrid drivetrain with a lot of controls that allows Henning to test individual components as well as develop entire control strategies.
 
I learned how useful MATT is on a project I worked on with Henning to develop operating strategies for hydrogen engines. Once we had the basic engine control strategy for the hydrogen engine established on an engine dynamometer, Henning used MATT to see how the hydrogen engine would perform in a vehicle. If you try to imagine how long it would take to actually test a new engine concept inside a vehicle, it is easy to imagine how powerful the MATT platform is.
 
Q: What other projects are you working on right now?
 
TW: I am in the lucky position of being involved in a whole range of other projects aside from hydrogen internal combustion engines right now. We currently have several projects that are focused on dual-fuel engines. Research performed at several universities has concluded that an engine operated on gasoline and diesel (at the same time) can actually be more efficient than running an engine on either fuel alone. We are now working with industrial partners to see whether those basic results can be confirmed and what the performance, efficiency and emissions benefits are when applying the dual-fuel concept to multi-cylinder, production-type engines.
 
I have also been involved in a project investigating the emissions impact of gasoline direct injection and alcohol fuels. We started out with ethanol and from there we have already evaluated other promising fuels such as butanol. There is still more work to do – for example, figuring out how alcohol fuels impact the performance of catalysts.
 
Finally, one topic that is particularly close to my heart these days is natural gas. Due to newly discovered reserves of domestic natural gas we have noticed an increasing interest in using compressed natural gas (CNG) in automotive applications. Given our experience working on hydrogen, another compressed gaseous fuel, we feel that we are in a great position to work on advancing CNG as an engine fuel.
 
Q: What projects are you watching (beside your own)?
 
TW: One of the areas I am watching right now is the introduction of electric and plug-in hybrid electric vehicles mainly here in the U.S. If you look at the history of alternative fuels and propulsion systems, you will notice that history repeats itself. Many times those new concepts were just ahead of their time and either certain components weren't quite ready for large-scale distribution or the infrastructure to support these vehicles wasn't there. That's why I am really curious whether this time around electric vehicles can gain a significant market share.
 
Aside from that, an interesting topic to watch is simulation. Computers become ever more powerful and we actually have some of the most powerful computers in the world here on site. With that computer power, we are always trying to perform more detailed calculations and simulations, especially in the area of internal combustion engines.
 
Q: What do you enjoy doing outside the lab?
 
TW: Outside the lab, I enjoy life in a big city and all of its pros and cons. The almost 30-mile commute is certainly the least enjoyable part but for me it is still worth it. Running along the lake turned out to be one of the things I really enjoyed after work and as it so happened, those runs got longer and longer. In 2009, I signed up for the Chicago Marathon and actually finished it, too (and I was pretty fast).
 
Other than that I enjoy everything the city has to offer including the large variety of restaurants, bars and outdoor events. In order to take full advantage of the lake I got into boating and am currently really crazy about wakeboarding and jet skiing. And finally, since my roots are in Austria and I don't want to miss out on developments there (including seeing my two little nephews grow up), I try to travel there at least a couple times a year.
 
Q: Last question, what can you never start a day at the lab without?
 
TW: Checking email and voice messages. I have a lot of colleagues, friends and family abroad. So when I start my day here, for most of my friends and colleagues in Europe the work day is almost over and my inbox always has a few emails and the voice message light on my phone is flashing...